United States, 28th Sep 2022, King NewsWire, No matter what stage of social development, human beings will never lose the pursuit of health. Since the end of World War II, the average life expectancy of human beings has increased significantly, due to the improvement of living standards and the development of modern medical technology has also contributed. However, humans still face the threat of disease nowadays. The covid-19 epidemic is far from over, the new epidemic named monkeypox has begun to spread, and the incidence of traditional diseases such as cancer, asthma, heart disease, etc. is also increasing, with medical expenditures rising in countries all over the world. In such situation, governments and major pharmaceutical companies must work together to protect human health. Fortunately, we have seen global giants in the pharmaceutical and health sectors bravely stand up to their social responsibilities.
Founded in 1849 and headquartered in New York, USA, Pfizer Inc. has a history of more than 170 years. It is a science-based, innovative, patient-first biopharmaceutical company with a diverse global healthcare portfolio that includes biologics, small molecules and vaccines, as well as many world-renowned medical devices. For more than 170 years, Pfizer has strived to provide better and better quality health services to people around the world.
In Pfizer's years of medical service experience, it is found that for medical institutions, the cost of medical devices in medical services is increasing, which brings many problems:
1.Many healthcare organizations have limited budgets, making it difficult to purchase advanced but expensive equipment and putting them at a competitive disadvantage in the marketplace.
2.The increased cost of health care greatly increases health care expenditures for patients and the state, with a significant negative impact on individuals and national finances.
3.The larger the proportion of costs for pharmaceuticals and medical devices in the overall medical industry, the smaller the distributable profits for other players in the chain, which is detrimental to the long-term development of the medical industry.
There are two solutions to these problems. The first is the direct supply from manufacturers, removing intermediate links and conducting direct cooperation with medical institutions. The second is the leasing of medical equipment, which reduces the expenditure of institutions through leasing. In fact, the current global market size for direct drug supply and medical equipment leasing is increasing substantially. In such context, Pfizer launched the Shared Medical Service Platform project. On this platform, various medicines in the fields of cardiovascular, endocrinology, neurology, infectious diseases, arthritis and inflammation, urology and oncology can be directly supplied to major medical institutions., as well as rental of medical devices including surgical instruments, diagnostic imaging equipment, chemical analysis instruments, home medical rehabilitation equipment and other medical equipment basically cover the needs of medical and health services. These medical equipment will widely provide direct supply and leasing services for medical institutions, research institutes, laboratories, homes and other places in various countries, improving the medical technology level of medical and health care.
The R&D application of medicine and medical equipment is an industry with large investment scale, but high returns and lasting benefits. In order to involve more users to participate in the medical service business, Pfizer Shared Medical Service Platform has innovated the investment model. In addition to the company's own investment, Pfizer will also open up a portion of our investment opportunities to a wide range of investors.
Pfizer Shared Medical Service Platform project will link the market and users, allowing users to contribute to the development of the medical market. There are two ways for users to obtain profits:
1.For Investors: By Investing in Pfizer's medical equipment, Users do not need to participate in the sales and application and the installation, maintenance and operation of medical equipment, all the work is done by Pfizer's sales engineers. Users can invest in different medical equipment according to their own abilities, which will be sold or leased to medical institutions in need on the platform. The income generated is automatically credited to the investor's account. Based on the experience in other countries, these medical equipment are generally in short supply.
2.For Promoter: After users share the products with family members and friends, after family members or friends become investors, the promoters can get corresponding commissions, which are automatically settled.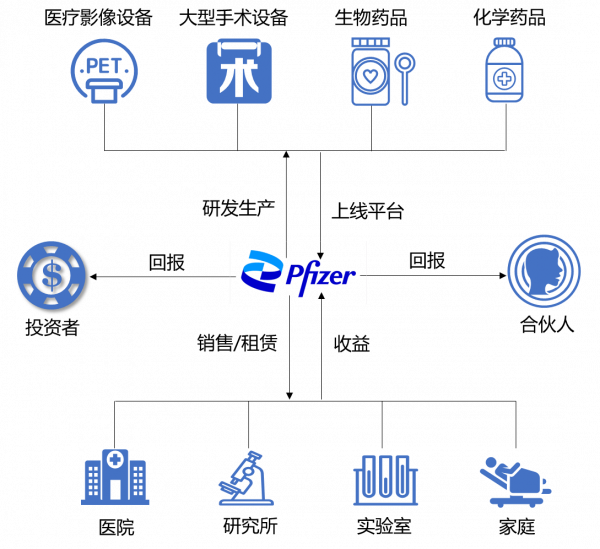 To promote the healthy development of human beings, Pfizer has been working hard, and the road to health will never stop. Pfizer has always believed that all patients should have access to the medicines and healthcare they need. Through the Pfizer Shared Medical Service Platform, it is one step closer to this goal by leveraging the power of investors in each country.
Media Contact
Organization: Pfizer LTD.,
Contact Person: John Lee
Email: [email protected]
Website: http://www.Pfizer.info
Country: United States
The post The Road to Health never ends appeared first on King Newswire.

Information contained on this page is provided by an independent third-party content provider. eTrendystock make no warranties or representations in connection therewith. If you are affiliated with this page and would like it removed please contact [email protected]