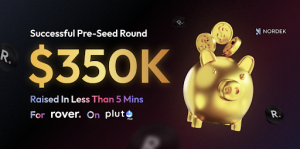 Dubai, UAE, 9th September 2023, ZEX MEDIA, Rover Finance, a revolutionary payment management protocol, designed to cater to the unique needs of crypto native businesses, raises $350K in less than 5 minutes for its pre-seed round on the 1st of September. The pre-seed for the project was conducted on PlutoPad, the seamless and user-friendly launchpad built on the NORDEK blockchain. PlutoPad offers fast, efficient, and active support to launch web3 projects.
Rover Finance provides a vast array of services including automating payroll processing to streamlining invoicing, bookkeeping, and accounting. The platform empowers web3 businesses with financial operations. For example, corporate employees can withdraw in part fiat, part crypto / full crypto / full fiat, or any other configuration of crypto and fiat that they wish, which eliminates the complex tracking using Excel sheets and negotiations to convince employees to accept full crypto.
The web3 payments solution doesn't just have these innovative solutions to offer but also has a highly user-friendly interface aimed at making financial management easy. Security is the primary consideration in all things finance – and Rover ensures the utmost standards of security. 100% KYC compliant, Rover Finance is multi-chain, and global, with access in over 140 countries. 
PlutoPad chose Rover Finance to be their debut project and support them in the journey from development to deployment to delivery. Here is what the launchpad's project had to say.
"PlutoPad – the first ever launchpad built on the NORDEK blockchain, has been instrumental in helping us realize our vision of redefining financial management for crypto-native businesses. Their expertise, support, and commitment have been invaluable on this journey", said Rover Fiance's team.
About PlutoPad
With marketing pushes, a robust funding ecosystem, integrations and collaborations, user acquisition outreach strategies, exclusive access to expert advisory, active support in developing a comprehensive infrastructure for token sales, informed research reports, and legal compliance assistance – PlutoPad assists chosen innovative projects, from development to deployment to delivery and serves as a platform for introducing trailblazing projects to the world.
PlutoPad and Rover Finance are powered by NORDEK, a revolutionary platform that provides a developer-and-consumer-friendly blockchain environment. With its pioneering ecosystem, focus on innovative solutions, and rapid growth – Rover Finance could not have chosen a better blockchain to build on. The whopping success of the pre-seed round is a testament to the power of the thriving community that drives the NORDEK ecosystem. 
With the $350K that Rover Finance has raised, they aim to expand resources and invest in speedy success. This milestone is a result of the trust and support of the crypto community and early investors.
Rover Finance is Raising For its Seed Round
Rover Finance's seed round is scheduled for 10 September. For the seed round Rover is targeting a $650,000 raise where investing currency would be USDT. A total of 10 Million $ROVE tokens will be allocated for the seed round. The minimum investment amount is $5,000. Invest in a project that has potential here: https://plutopad.com/projects/1694261933955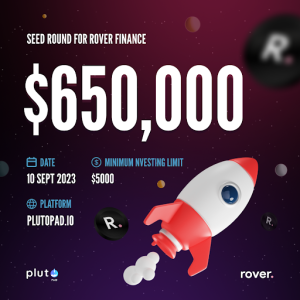 Rover Finance: https://www.rover.finance/
PlutoPad: https://plutopad.com/
NORDEK: https://www.nordek.io