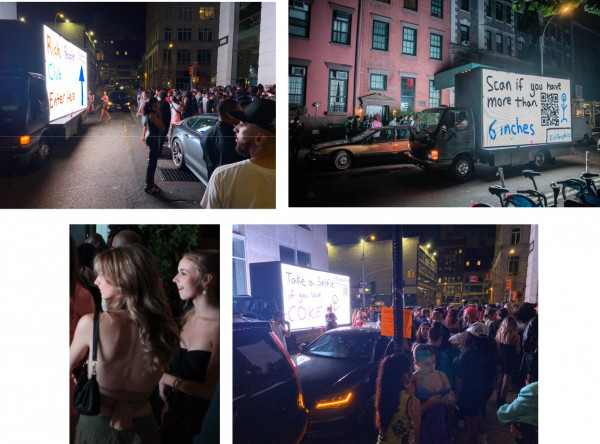 New York, New York, United States, 19th Sep 2022, Rich People Club, an NFT collection based on a parody of the snobbish and scummy elite, Saturday, stationed themselves outside of exclusive events at New York Fashion Week and displayed questionable slogans on their massive LED trucks.
As the sun set on Saturday night, Rich People Club positioned trucks with large LED trucks in front of popular club The Blonde, which refers to itself as a "private party".
Onlookers were blinded and intrigued by the truck's bright screen which displayed messages such as "Take a selfie with me if you like Coke" and "Pee Pee Poo Poo Fashion".
The trucks followed up later in the night at an underground party hosted by Zach Bia where they donned a massive QR code which read "Scan if you are over 6 inches!" an innuendo towards male genitalia size.
This isn't the first time that "Rich People Club" have used their digital screen trucks to attract and captivate a large audience.
During NFT.NYC which is well regarded as the biggest NFT Conference / event, they positioned an even bigger screen directly outside of the event which led users to a popular "Deez Nutz" joke. 
They also appeared at "ApeFest" an event by Bored Ape Yacht Club which featured performances from Eminem, Lil Wayne, Snoop Dogg, Future and more. Their truck featured an animated guillotine and an angel with text reading "Should we buy or burn an ape".
Rich People Club's mint is coming up, and they are "Not stopping until every person is jealous to not be amongst the Rich People". The Rich People Club website is located at https://richpeople.io. Most of Rich People Club's content can be found on Twitter ( https://twitter.com/rich_peopleclub ) and Discord ( https://discord.gg/richpeople ), where they host Rich-themed giveaways and games made for mature audiences.
Media Contact
Organization: Rich People Club
Contact Person: Media Relations
Email: [email protected]
Website: https://richpeople.io
City: New York
State: New York
Country: United States
The post RICH PEOPLE CLUB AWES FASHION WEEK NIGHTLIFE WITH DIGITAL TRUCKS appeared first on King Newswire.

Information contained on this page is provided by an independent third-party content provider. eTrendystock make no warranties or representations in connection therewith. If you are affiliated with this page and would like it removed please contact [email protected]