The project is building a hybrid GameFi launching on Binance Smart Chain, Fantom, HECO, and others.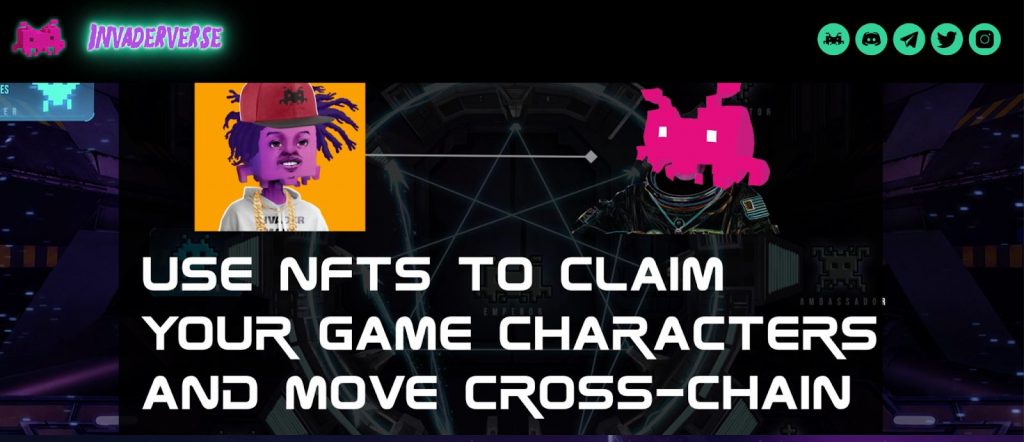 Invaderverse is revolutionizing game finance and entertainment with a powerful new approach to GameFi, DeFi, and non-fungible tokens. The platform employs a hybrid Live Wallet approach to bridge the gap between conventional centralized games and transparent balance tracking on the blockchain. This enables a seamless gameplay experience for users and allows them to play across multiple blockchains without shedding their reputation, levels, or reward opportunities.
Introducing N.I.C.E. Invaders Game
N.I.C.E. Invaders (Nice Invaders Crush Everything) is a collaborative cross-chain P2E game aiming to bridge the gap between the crypto world and gaming. Players will choose from over 100 planets to inhabit and collaborate by staking $CRUSH to mine $NICE. As an invader, you'll need to work together to recruit players, build resources, and level up to increase your mining potential. You can also attack other planets to steal their resources by staking $CRUSH. Moreover, planets will need to team up and attack resource-consuming Black Hodles to prevent them from becoming too powerful and destroying the universe.
$NICE makes the gaming experience more interactive and keeps players actively engaged in gameplay and not just mining for currency. It also makes it possible for you to get paid, not based on luck, but just for enjoying the game. This is partly due to a unique concept called "Play to Enjoy to Earn."
The Bitcrush Arcade team believes enjoyment should come from games first, with the earning potential as the cherry on top. They also disagree that P2E should necessarily imply "Pay to Play." Therefore, they have designed a game with incentives to encourage existing players to contribute NFTs to new players and thus allow everyone to enjoy the entire game without making expensive purchases.
Ten different invader characters combine to create a robust and unique mating and offspring system that allow the multiplayer planets to grow exponentially as they work together to expand through the Invaderverse. The best part is the Live Wallet allows for chain agnostic gameplay even with those players collaborating to build the same planet.
MAD N.I.C.E Invaders NFTs
In addition, a generative NFT collection called "Mad N.I.C.E. Invaders" is bringing a new concept into cross-chain GameFi. Only 8,888 Invaders will be minted, each with a corresponding game character with a similar rarity in N.I.C.E. Invaders.
Your generative Mad N.I.C.E. Invaders NFT will be the key to unlocking your game character, meaning you will have 2 NFTs. You can sell each independently, or hold both NFTs in the same wallet and earn passive income from the marketplace. With the unique concept of "Crushed NFTs" and the live wallet feature, holding your NFTs in the same wallet, even if cross-chain, will earn you rewards. Want to move your in-game character to another chain? Simply burn your character, and re-mint it using the Crushed NFT functionality.
The NICE Invaders NFTs are also tied to a strong utility. Take the "Emperor NFT' as an example. With only 100 planets and 100 Emperors, the Emperor is necessary for a planet to start producing $NICE. Each Emperor can also play aspects from every other character, and decide the flow of $NICE for every player on his planet.
Additionally, the Emperor NFT will hold massive value in Crush Planet. As an Emperor, you will be able to compete in auctions, mint your own open-world planet with your own theme and branding, hold your own real estate sales, and more. If you've ever wanted God Mode in the metaverse, don't miss the Emperor minting coming in mid-March.
Crush Planet
Crush Planet is an open-world sandbox game the team is currently developing to provide an immersive experience that ripples out into the real world. The goal is to create a metaverse that will help launch creative endeavors in the real world using metaverse assets like NFTs and DAOs. In addition to just selling real estate to build on, Crush Planet will incentivise holders with rewards for holding real estate and building and contributing to growing the Invaderverse world.
As mentioned above, the Emperor NFT will also mint whole new worlds and create their own economy, similar to a whitelabel metaverse. Crush Planet will also feature various districts that cater to specific themes and environments, such as "Nice (Vice) City (for casinos, clubs, adult entertainment, etc.) and "Crush Central," Fashion & Art district, Sports district, and many more.
Website: https://www.invaderverse.com/
About Bitcrush: https://www.bitcrush.com/
Instagram: https://www.instagram.com/niceinvaders/
Discord: https://discord.gg/bMDGcezx7g
Twitter: https://twitter.com/bitcrusharcade