Micron Technology (NASDAQGS:MU) is scheduled to report Q4 earnings results on September 29, 2020. 
The company is expected to report earnings of $0.98/share on revenue of $5.91 billion. The consensus earnings per share (EPS) of $0.98/share is based on a poll of 29 analysts and represents a growth of 111.9% over the same quarter last year when the company reported earnings of $0.56/share.
The revenue forecast of $5.91 billion based on a poll of 29 analysts implies a year-over-year (YoY) growth of 22.3%. Last year the company reported $4.87 billion in revenue for the quarter.

Earnings Call Trends
Historically, management has exceeded analyst eps expectations 7 out of the last 7 tracked quarters, and missed revenue expectations 1 quarter.
What are your expectations from Micron for earnings this quarter? Let us know in the comments!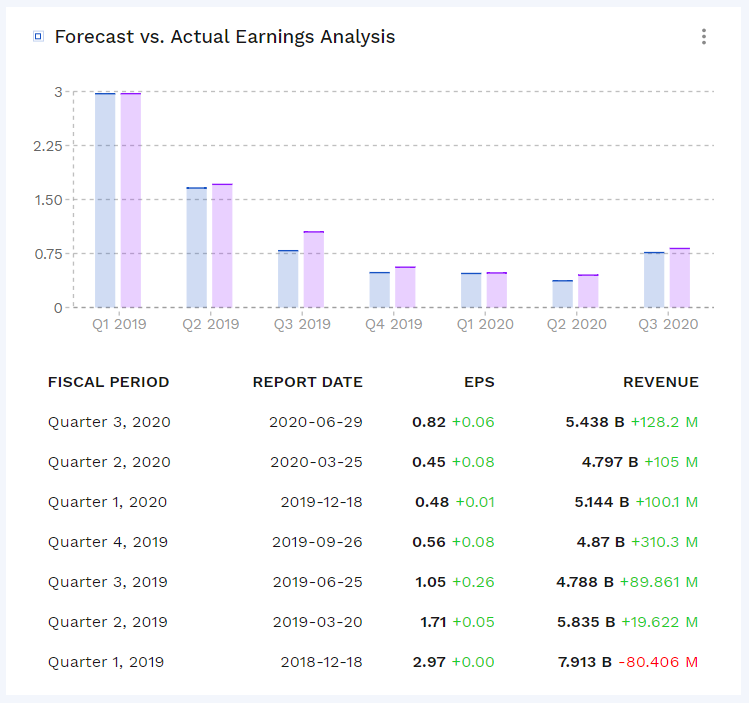 Source: Finbox
In the following table, we summarize the company's stock price movements after earnings releases. The "Price Day Prior" column shows the closing stock price on the day before the earnings report, and the "Price Next Day" column shows the stock price at the end of the trading day after the earnings report. After the last earnings report for the 3rd Quarter, 2020 the stock price reacted by going up 6.25%.
Source: Finbox
Fundamentals And Technical Analysis
Micron is currently trading at $49.20/share, down 3.04% for the day. The company is trading at approximately 80.4% of its 52-week high of $61.19/share and its stock price is down -5.7% since the beginning of the year and up 3.49% over the previous week. 
The company's 14 Day Relative Price Index (RSI) of 62.25 suggests the company is technically trading near overbought territory. The RSI is considered overbought when above 70 and oversold when below 30.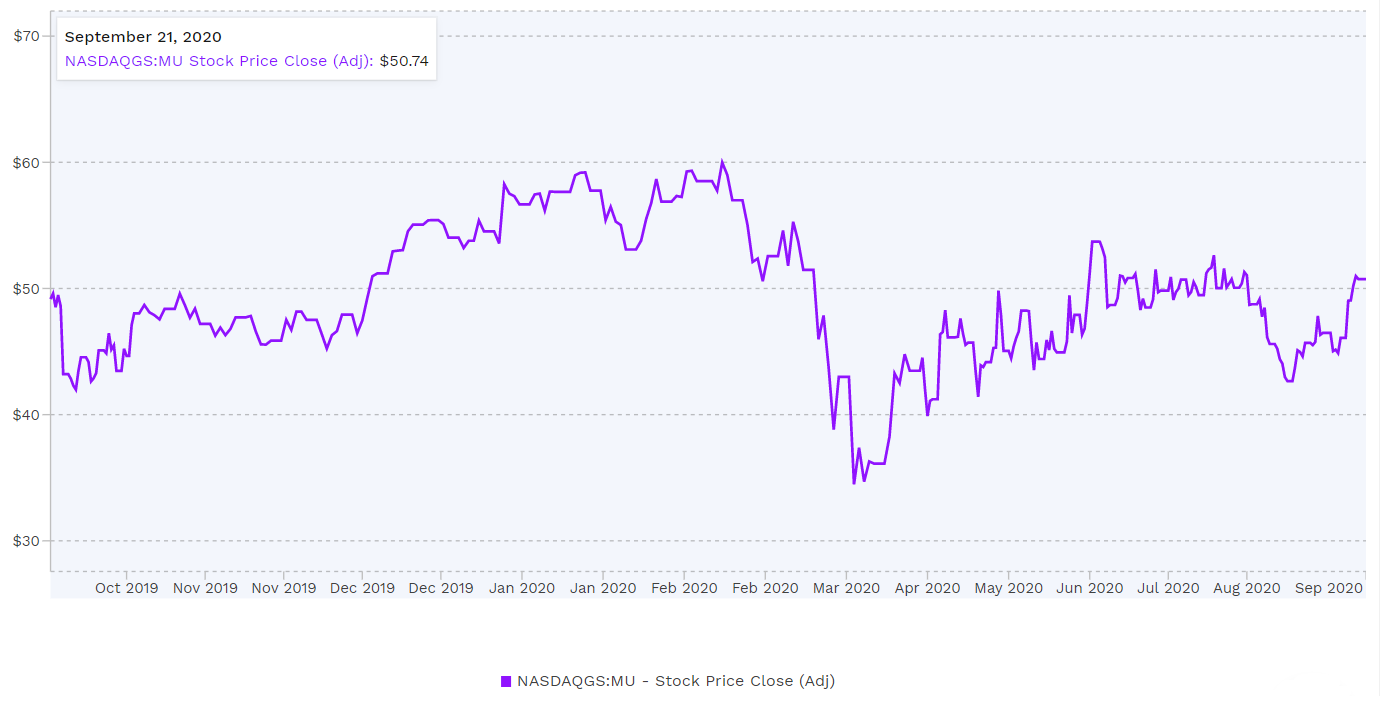 Source: Finbox
The current share price implies a PE ratio of 24.9x, which is slightly higher than its peers' average PE of 21.1x (source). Micron's current share price also implies an EV/EBITDA multiple of 6.9x, versus its peers mean of 5x. The following table summarizes some other key fundamental ratios: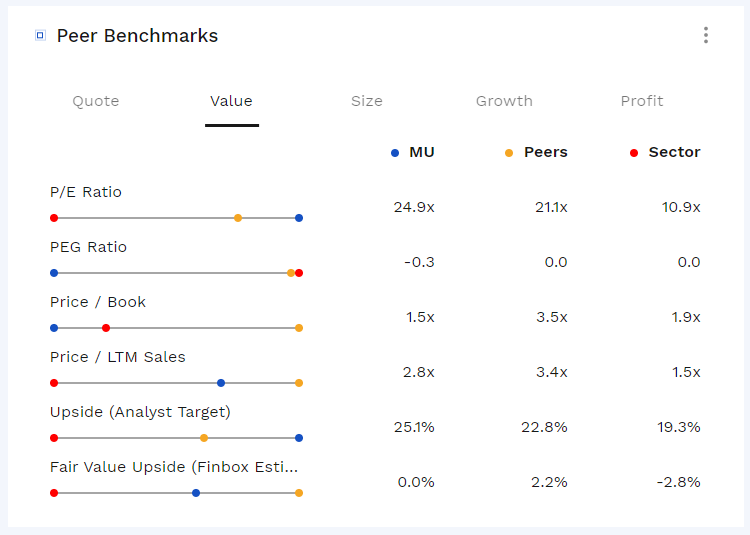 Source: Finbox
Company Profile: Micron Technology
Micron Technology, Inc. manufactures and sells memory and storage solutions worldwide. The company operates through four segments: Compute and Networking Business Unit, Mobile Business Unit, Storage Business Unit, and Embedded Business Unit. 
It offers memory and storage technologies, including DRAM, NAND, NOR Flash, and 3D XPoint memory under the Micron, Crucial, and Ballistix brands, as well as private labels. The company provides memory products for the cloud server, enterprise, client, graphics, and networking markets; memory products for smartphone and other mobile-device markets; SSDs and component-level solutions for the enterprise and cloud, client, and consumer storage markets; other discrete storage products in component and wafer forms for the removable storage markets, as well as 3D XPoint memory products; and memory and storage products for the automotive, industrial, and consumer markets.
It markets its products through its internal sales force, independent sales representatives, distributors, and e-tailers; and Web-based customer direct sales channel, as well as through channel and distribution partners primarily to original equipment manufacturers and retailers. The company has strategic collaboration with BMW Group. Micron Technology, Inc. was founded in 1978 and is headquartered in Boise, Idaho.