Ceres Global Ag is a Minneapolis headquartered agricultural, energy, and industrial supply chain company. The company is well-positioned to capitalize on the growing global demand for soybean crushes (soybeans are processed into two products – soybean meal and soybean oil). The company's common shares trade on the TSX in Canada, under the trading symbol 'CRP.'
Growing global demand for soybean crush 
According to the U.S. Department of Agriculture, U.S. domestic demand for soybean meal and oil has been sharply rising, driven by robust meat exports and stable crude oil usages. American meat processors use soybean meals as animal feed. Soybean oil demand is being driven in part by rising biodiesel purchases. Demand in China dwarfs everywhere else, with Chinese imports accounting for close to 60% of the global world trade between 2019-21.
According to Mordor Intelligence, the "main reasons behind the increasing demand for soybean meal include the health benefits associated with this protein-enriched food and the increasing population of livestock, cattle, ruminants, and other animals that are fed by soybean meal."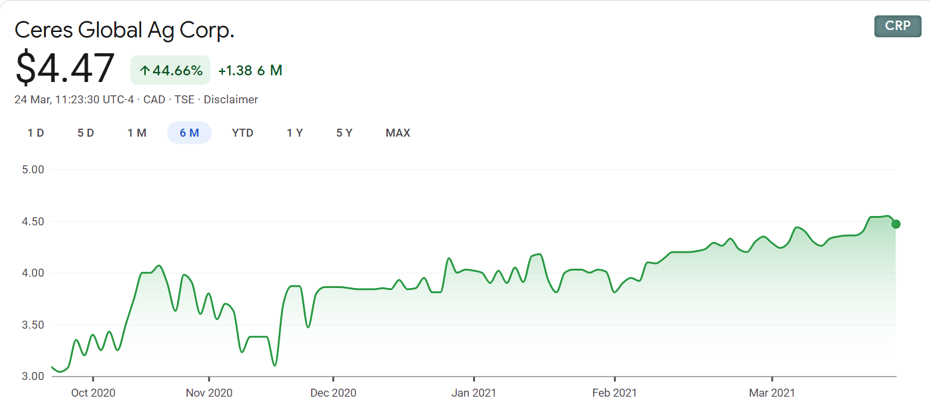 A look at Ceres Global Ag Corp.
Through a network of commodity logistics centers, Ceres Global Ag merchandizes high-quality North American agricultural commodities and value-added products and provides reliable supply chain logistics services to agricultural, energy, and industrial customers worldwide. They are headquartered in Minneapolis and operate 13 locations across Saskatchewan, Manitoba, Ontario, and Minnesota. These facilities have an aggregate grain and oilseed storage capacity of approximately 31 million bushels.  
Ceres Global Ag's Jordan Mills operations in Jordan, Manitoba, Canada, crushes approximately 5 million bushels of soybeans annually, offering a stable marketing option for soybean growers in Western Canada. In their most recent earnings call on February 12, 2021, the company said that to capitalize on the solid fundamentals of the soybean crush business, the company is expanding its soybean crush plant in Jordan, Manitoba. The project will increase the plant's capacity by 50 percent and is expected to be completed by the end of the upcoming summer.
Aside from their soybean crush operations, Ceres Global has a 50% interest in Savage Riverport, LLC, a joint venture with Consolidated Grain and Barge Co., a 50% interest in Farmers Grain, LLC, a joint venture with Farmer's Cooperative Grain and Seed Association, a 50% in Gateway Energy Terminal, an unincorporated joint venture with Steel Reef Infrastructure Corp., a 25% interest in Stewart Southern Railway Inc., a short-line railway located in southeast Saskatchewan with a range of 130 kilometers, and a 17% interest in Canterra Seed Holdings Ltd, a Canada-based seed development company.
Learn More About Ceres Global Ag.