The entire concept of Bulldog Inu strikes up pictures of our lovable bulldog as a charming and cuddly furry companion, but for crypto fans, it represents a new level of meme coins.
Bulldog Inu ancestry:
We believe in "humanity for dogs" because we go above and beyond what is deemed a "human" attitude to dogs—we treat them as if they were human beings. This belief stems from our passion for animals, especially bulldogs. In our experience, dogs are intelligent, self-aware, sentient entities with some level of consciousness. We consider dogs to have souls. Since they are noble beings that possess all the qualities of humanity without any of the vices, they deserve the right to life, access to medical care as a human right, and to be treated with the dignity and respect they deserve. We want you to know who we are and that we will fight for the survival and wellbeing of every single dog.
The Ecosystem of Bulls
There are 11 components that make up the Bull Ecosystem, including Dapps, Dao, Move2Earn, Chains, NFTs, Metaverse, etc.
What distinguishes the Bulldog Inu?
Our development staff is committed, skilled, and experienced, and all information is open.
There are no tokens available to the development team;
The team won't have any tokens when creating tokennomics because 35% will be burned up front and 15% will be used for liquidity.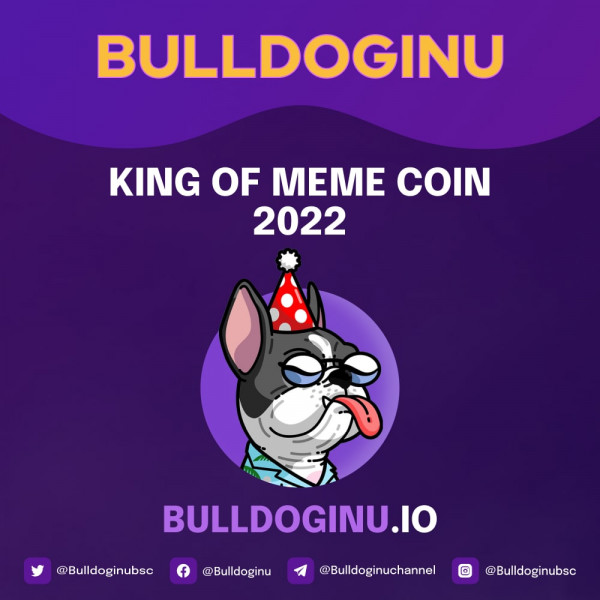 The following points need to be emphasized:
An 8/8% buy/sell fee will be levied, of which 2% will be given to wallet owners and 2% will be used for things like staking, reward move2earn, CEX listing, and other things of a like kind (this 2% will also be used to sustain the chart when it is necessary). 2% for project development-related activities and 2% for marketing-related activities. Investors can now more easily follow Bulldog Inu since it is officially listed on CMC and CG.
Bulldog Inu also completed all of the procedures and obtained the KYC, Audit, and SAFU badges.
Bulldog Inu's long-term and sustainable development is intended, and the business is certain that BULL will become the leading memecoin in 2022. All of the tasks that a token is capable of completing are included in Bulldog Inu's objectives.
Media Contact
Organization: Bulldog Inu
Contact Person: Media Relations
Email: [email protected]
Website: http://www.bulldoginu.io/
City: London
Country: United Kingdom
The post Bulldog Inu – Everything you've been looking for in a memecoin appeared first on King Newswire.

Information contained on this page is provided by an independent third-party content provider. eTrendystock make no warranties or representations in connection therewith. If you are affiliated with this page and would like it removed please contact [email protected]