New York City, NY, 16th November 2023, ZEX MEDIA, The vibrant streets of New York City were the backdrop to a culinary showdown like no other. The Comfee' Toaster Oven 10 in 1 Iron Chef Cooking Competition, in an exciting partnership with Red Inside Culinary, has just wrapped up, leaving the city buzzing with excitement and the delicious aroma of innovation. More than a cooking competition; it was a celebration of urban lifestyle, smart technology, and, of course, mouth-watering food.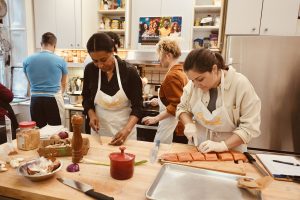 Hosted under the bright banner of Comfee's #ComfeeUrbanStyle campaign, the intention of the event was a statement of style, a testament to Comfee's dedication to infusing modern urban living with state-of-the-art kitchen appliances. The Comfee' Toaster Oven 10 in 1, an appliance that is redefining the meaning of 'kitchen wizardry' was the true showstopper.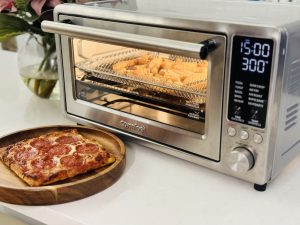 Enter Chef Ivan from Cozymeal – not just a maestro in the kitchen but a conductor of culinary excitement. He turned the event into an arena where food lovers and aspiring chefs teamed up, their mission: to unlock the mysteries of their ingredient baskets and conjure up gastronomical delights using the Comfee' masterpiece.
And it did not fail to impress. The Comfee' Toaster Oven 10 in 1, equipped with Flashwave Rapid Heat technology, is a game-changer. Picture a toaster oven that heats up faster than a New York minute – 0.2 seconds to be exact. Its 3rd generation graphene heating means your meals are ready 40% quicker than in a regular oven. For the fast-paced New Yorker, this oven is nothing short of a culinary superhero, a true sensation.
The air was electric as teams hustled, chopping and sautéing their way to victory, guided by Chef Ivan's expertise. Like a scene from the TV show The Bear, participants shouted "Hey, Chef!" to each other across the room to get what they needed. The menu spanned time and cultures – bruschetta to tantalize the taste buds, mains that were a mosaic of the mystery ingredients, and a Tiramisu Gelato that was the cherry on top. Each dish was a nod to the versatility and prowess of the Comfee' Toaster Oven 10 in 1, proving that it's not just an appliance, but a beacon of culinary hope for urban people hungry for life.
"It's about revolutionizing the urban kitchen," declared a Comfee spokesperson. "This oven isn't just a time-saver; it's a quality enhancer. Today, we saw it turn cooking into an art form."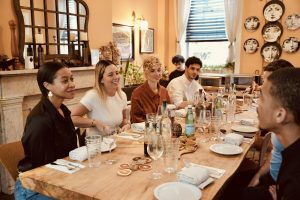 Chef Ivan summed it up perfectly: "Today, we didn't just merely cook. We celebrated what we all love about living in this magnanimous city of ours: the efficiency, the creativity, the commitment to everlasting quality. And Comfee's elegant kitchen solutions are at the heart of this urban culinary renaissance."
As the event wound down, and guests relished their creations and shared food with one another, one thing was clear – the Comfee' Toaster Oven 10 in 1 had stolen the show, and perhaps even a few hearts. Everyone couldn't wait to take home one of their own.
In the wake of the event, hashtags like #ComfeeToasterOven and #10in1toasteroven are a buzz on social media, capturing the essence of New York's hungry and high-paced soul.
The Comfee' Toaster Oven 10 in 1 Iron Chef Cooking Competition at Red Inside Culinary was more of a memorable experience if anything, a testament etched in the hearts of participants, to the fact that in the heart of New York, cooking is not just about food – it's about lifestyle, technology, and a dash of magic. For those who live life in the fast lane and are hungry for more, Comfee is not just a brand; it's a community.
So step right up, culinary connoisseurs! Comfee unveils an extraordinary spectacle in the form of an exclusive early Black Friday extravaganza for the Comfee' Toaster Oven 10 in 1! Witness the magic unfold as the deal price joins forces with an in-store coupon, conjuring a sensational final price of $109.99 – a magnificent 45% total discount that will leave you in awe. This limited-time offer is your ticket to culinary excellence, a rare chance for enthusiasts to welcome the Comfee' Toaster Oven into their kitchens at an unbeatable price.
Don't miss the grand performance! Hurry to the Comfee' store on Amazon and nab your 10-in-1 Toaster Oven and Air Fryer with the Black Friday discount today!